Invest The Way You Want To
Squirrel SMSF lets you buy and sell shares with your super.
How will you invest?
With your Squirrel SMSF, you choose the risk strategy and the shares you trade. You have complete freedom with your investments so long as you comply with the ATO and SMSF law. If you've got an investment strategy in mind, you can use a portion of your super to buy and sell shares.
Why Squirrel?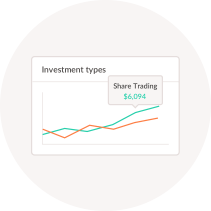 Investment Dashboard
The Squirrel SMSF portal links up with most major trading platforms, so you can see how your investments are doing in real time and make adjustments easily.
Contribution Alerts
Get an instant alert for when your employer makes a contribution to your super. Check your balance in real time, whenever and wherever you like.
Learning Resources
Access quality research on listed shares, exchange traded funds and hybrid securities. We're always adding new learning material so you can stay on top of your investment strategy.
Benefits of using super to buy shares
There are many benefits in diversifying your SMSF portfolio with shares.
Investing wisely in shares can bring you a greater return on investment than a term deposit or savings account.

Your SMSF can earn a potential income from dividends, adding to the balance of your retirement fund.

There are lower tax rates on long term capital gains from investments, as well as the preferential tax rates your SMSF gets on income. SMSF investments that have been held for more than a year, only ⅔  of any gain is taxable.
Risks of using your super to buy shares
Investing your super in shares also carries many risks that you need to be aware of before diving in.
You really need to do your research and be sure that your investment decisions will be better than a fund manager's.

Share prices can fluctuate massively and if they fall to zero, you lose all your money. It's never a good idea to invest all your super in one company/industry.

You need to put in a lot of time and effort to keep your eye on the market and economy, so that your portfolio of investment rewards you for retirement.