In a nutshell,
We do Self-Managed Superannuation
With Squirrel, you are in charge of your superannuation. We've made having an SMSF quick, easy and affordable, so you can grow your nuts for retirement.
Be in total control of your superannuation.
Squirrel's intuitive platform allows you to set up an SMSF and manage your superannuation yourself. With Squirrel, you can choose to invest your super however you want, giving you full financial control and saving you thousands in annual fees.
Why Switch To An SMSF?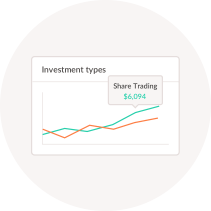 Invest How You Want
Use your super to buy an investment property, cryptocurrencies or do share trading. There are many ways you can invest your super and with the Squirrel platform you have full flexibility and support. We are also a helping hand in making sure your investments comply with the ATO.
Significant Tax Benefits
Currently, the top marginal tax rate on your income is 45% and capital gains is 25%. However, the tax rates on your SMSF is just 15% on income, 10% on capital gains and 0% in 'pension phase'. Over your lifetime that is a huge tax saving on your money. It's a nut-brainer…
Save On Fees
Our flat fee of $121 per month (inc GST) is one of the best SMSF rates on the market and stays the same no matter how much your super balance grows. That's because, unlike managed funds, we don't base our fees on a percentage of your super balance. See examples of how much our customers are saving right now. 
See what you could invest your super in
Features
Super Easy To Setup
Your online application takes less than 5 minutes and within a matter of weeks you can put your money to work. We make it super simple for you, as our platform and team do all the legals, audits and setup of the unique tax and trust structures for your SMSF.
Consolidate Your Super
It doesn't matter if you have one super account or ten, Squirrel will gather them and consolidate them all together. You can view your entire balance and have everything you need within days.
Got an investment strategy in mind? You can use your super to grow your wealth for retirement and we'll make sure your SMSF is compliant with the ATO.